Welcome to Europe Bus Charter !

Charter bus service in France, London, Paris, Greece, Spain and Italy is just the beginning of what Europe Bus Charter can provide to you and your group. As the only U.S. based European charter bus rental network, we can offer your group complete charter bus, tour bus and sleeper bus service throughout Europe.

Europe Bus Charter is a wholly owned division of
USA Bus Charter
., one of the nations oldest and most experienced charter bus rental networks in the U.S. Today, Europe Bus Charter offers the same great service throughout all of Europe.




About Europe Bus Charter

Europe Bus Charter is the largest U.S. based network of charter bus, sleeper bus and tour bus service providers in Europe. With more than 100 licensed and insured operators throughout Europe, you and your group can enjoy access to the latest European coaches throughout Europe. Sit back and relax and let the professionals at Europe Bus Charter arrange your next motorcoach tour and transportation in and around Europe. With more than 800 of the finest buses available, we will have the service and price you need.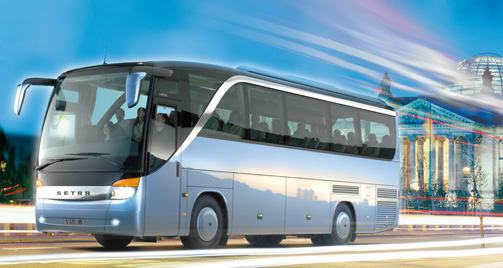 Newest European Coaches

Step On Tour Guide Service

English Speaking Drivers

Video Coaches

Licensed and Insured Buses

Single and Double Deckers

EU Approved Companies

Why Use Europe Bus Charter ?

With more than 35 years of experience in the charter bus, tour bus, limousine and airport transportation business the staff of Europe Bus Charter have the experience it takes to provide you and your group with the finest service across Europe. In addition, you can enjoy paying for your service in U.S. dollars so there is never the need to convert dollars or pay additional fees. All of your business is handled here in the U.S. while your charter service is provided by our top European charter bus affiliates. After placing your reservation with Europe Bus Charter we will provide you and your group with 24 hours access to your service provider for last minute changes, confirmations and assistance and yes, everyone speaks "english". Call us now for a free no obligation quote.


Europe Bus Charter

International Toll Free

Tel. (888)288-4345

Fax. (888)467-4214

Outside of The U.S.

011-623-748-0033

U.S. Mailing Address

14175 W. Indian School

Suite 146

Goodyear, Arizona 85338


Albania

Andorra

Austria

Belarus

Belgium

Bosnia

Bulgaria

Croatia

Cyprus

Czech Rep.

Denmark

Estonia

Finland

France

Germany

Greece

Hungary

Iceland

Ireland

Italy

Latvia

Liechtenstein

Luxembourg

Macedonia

Malta

Moldova

Monaco

Montenegro

Netherlands

Norway

Poland

Portugal

Romania

Russia

San Marino

Serbia

Slovakia

Slovenia

Spain

Sweden

Switzerland

Turkey

Ukraine

United Kingdom

Anywhere In Europe !

Groups From 10 to 1000

Conventions & Trade Shows

School Travel

Senior Trips

Guided Tour Service

Religous Tours & Charter

Peformers & Entertainers

Corporate & Business Events

Government Service

Any Event. Any Occasion

New European Coaches Available !